Aluminum Soffit, Fascia Installation and Repair in Toronto
Aluminum soffit and fascia, the overhangs that protect your home from water, play a crucial role in keeping your home looking good and free from costly damages. Likewise, eavestroughs and gutters, which pull water away from your foundations are critical in the stability and value of your home. If any of these features are old, broken, or compromised in any way, you need to call the experts to come install, repair, or replace your aluminum soffit and fascia, or eavestroughs.
In Toronto and greater GTA, Rama Siding & Aluminum is the best place to call to take care of all your aluminum needs. For over 25 years the father and son team who run our company have been taking care of aluminum soffit, fascia, and eavestroughs. For hundreds of satisfied customers.
There are two main reasons so many homeowners in Toronto turn to us for their aluminum installation, repair, and replacement needs. First, we put the customer first. We offer free estimates and consultations to make sure your home is protected with the highest-quality materials at a price that makes sense for you.
Second, we stand behind all of our aluminum repairs, replacement, and installations with a lifetime guarantee. We do this because we do all the work ourselves – never subcontracting it out – with the highest standards in the industry.
Contact us today to find out how Rama Siding & Aluminum can help protect your home.
Aluminum Soffit

 and Fascia
Rama Siding offers a wide range of aluminum soffit and fascia installation, repair, and replacement services in Toronto and surrounding areas. We provide quality craftsmanship and a wide range of guaranteed building products to cover all possible applications, and we can solve all your soffit and fascia problems.
Why are Aluminum Soffit and Fascia so important?
Soffit and fascia play an essential role in the structural integrity and look of your home. A professional soffit and fascia installation provides vital ventilation and helps reduce excess moisture while protecting the rooflines. By installing aluminum soffit and fascia, you can eliminate ladder-top maintenance.
Aluminum Soffit Installation, Repair and Replacement
Aluminum soffits protect your rafters from moisture and weather elements which can rot or have mold buildup if exposed to moisture. We provide both vented and non-vented aluminum soffit installation. Vented soffit helps the airflow through the vents and assists moisture in escaping. We offer a wide range of high-quality and durable aluminum soffit installations that keep water out and blend well with your eavestrough's design and appearance.
Aluminum Fascia Installation, Repair and Replacement
Aluminum Fascia prevents water from damaging the wooden fascia board and ensures that your eavestrough is securely mounted. A professional fascia installation will ensure the durability of your eavestrough installation while giving you a smooth appearance around the edge of the roof. We offer fascias in a variety of colors to match the color and style of your home.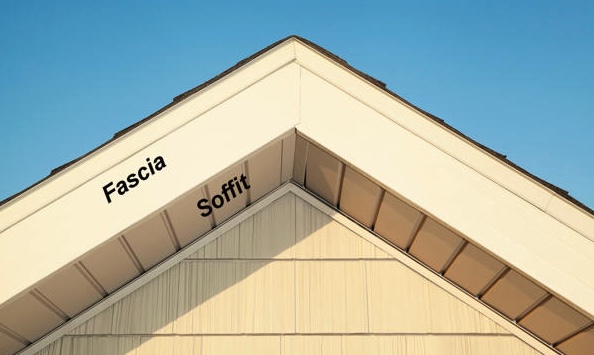 Leaf Guards /

Eavestroughs Toronto
Eavestrough Toronto
An Eavestrough collects rainwater from the roof and channels it down using a downspout, thereby protecting your building's foundation from water damage. It also protects the paint on the walls and prevents leakages in the basement.
Rama siding provides professional-quality eavestrough installation and repair services in Toronto. We install seamless eavestrough systems that are low maintenance and durable. If you need regular maintenance and inspection services to ensure that your eavestroughs/rain gutters function properly and always protect your home, get in touch with us today.
Leaf Guards
Leaf guards or gutter guards prevent leaves from clogging your eavestrough or rain gutter. At Rama siding, we provide an efficient leaf guard installation service for your eavestroughs. Call us today and save yourself from those gutter-cleaning trips up the ladder and onto the roof.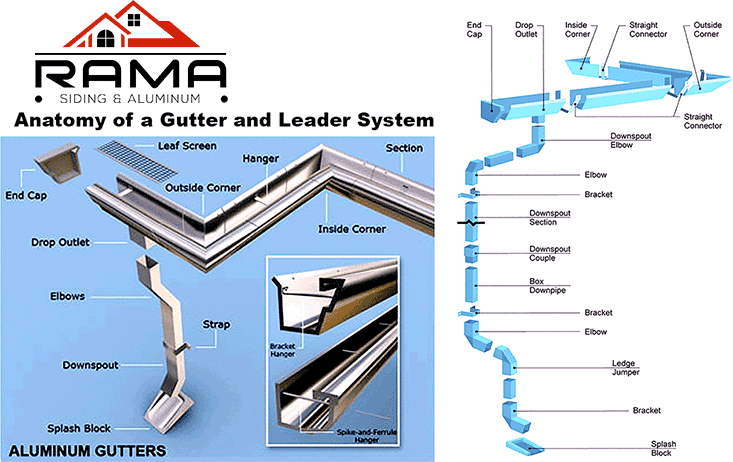 Toronto, Ontario, 5 Mancroft cres, M9W3E7